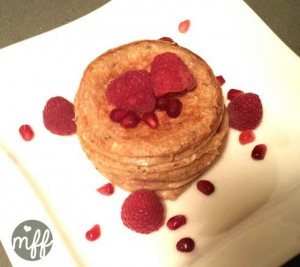 This is my go to breakfast every single morning, it is the perfect combination of carbs and protein and makes for a pre-workout, enjoy!
Ingredients:
1/3 C of Oat Flour
1 Whole Egg
3 Egg Whites
1/2 t of Vanilla Extract
1/2 t of Cinnamon
1/4 t of Salt
2 t Unsweetened Vanilla Coconut Milk
Coconut Oil Cooking Spray
Directions:
Combine oat flour, eggs, vanilla extract and coconut milk and mix throughout.
Heat a skillet over medium heat, spray with coconut oil cooking spray and add in mix based on your size preference
Enjoy!